K is for Kebab
Shrimp and bacon kebab grilled @ the yard during one of those rarely-cool summer days here in Texas.
Served with steamed broccoli in sesame seeds
Jenny Matlock hosts this cool meme! Thanks, Jenn!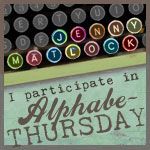 This is first entry for Food trip Friday. I discovered this cool meme from my blogger friend, Cher of
Sweet Memoirs
.
Thank you, Cher!